Une poignée de privilègiés ont pu voir quelques épisodes de la saison 1 de la série Netflix The Witcher et en parlent sur twitter. Visiblement cela a de la gueule et Henry Cavill en impose.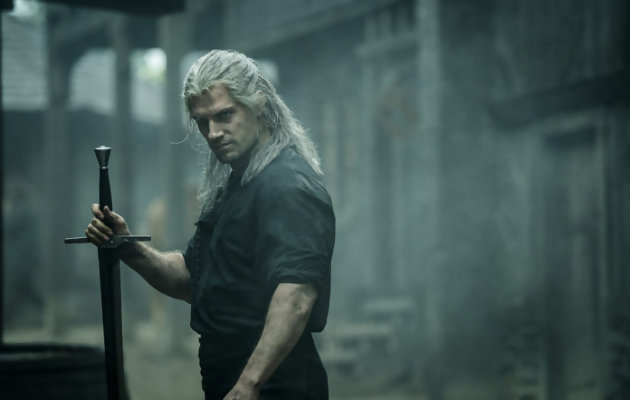 Mise en ligne le 20 décembre prochain sur Netflix, The Witcher, menée par Henry "Superman" Cavill, est l'adaptation de la saga littéraire polonaise du Sorceleur, écrite par Andrzej Sapkowski.
Selon ces premiers échos, The Witcher est une réussite et mettrait à l'amende Game Of Thrones sur bien des domaines ("les scènes combats font passer celles de Game Of Thrones pour des disputes entre deux mecs bourrés dans un bar").
Revue de tweets de The Witcher.
"J'ai vu les screeners de The Witcher. J'admets qu'étant un énorme fan des livres, j'étais inquiet. Mais Lauren S. Hissrich (showrunner) a fait un super boulot pour raconter cette histoire. Cela aide que le cast est incroyable ! Et Henry Cavill est juste… wow".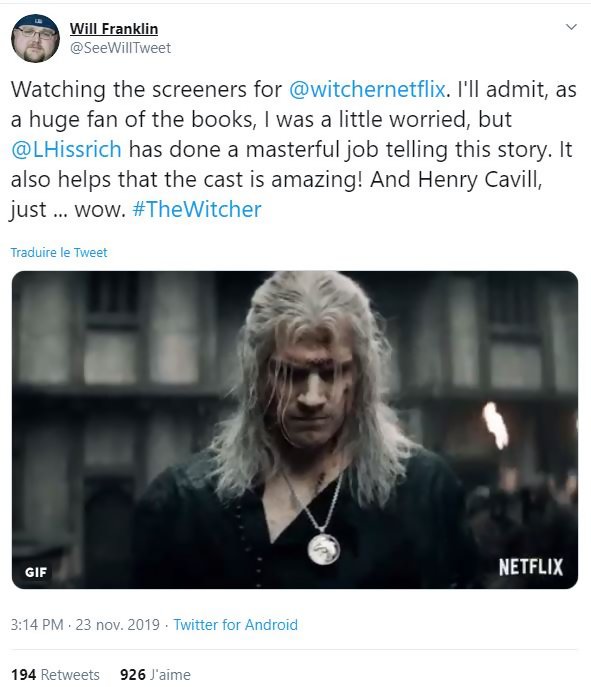 "Je dirais ceci. Les scènes de combat dans The Witcher font passer celles de Game Of Thrones pour des disputes entre deux mecs bourrés dans un bar. C'est de mieux en mieux à chaque épisode. Anya Chalotra en Yennefer et, MyAnna Buring en Tissaia éblouissent… Tout n'est pas parfait, mais globalement, c'est une réussite"
Oh I will say this. The fight scenes in The Witcher make Game of Thrones fight scenes look like two drunks fighting outside a bar.

— Whispers of Oxenfurt: A Witcher Podcast (@witcherpodcast) 24 novembre 2019
"les scènes de combat dans The Witcher, WOW. mettre une claque aux combats de Game Of Thrones."
The Fight Scenes In #Witcher WOW Makes #GameofThrones Fights Look Awful – Watching The Witcher Season 1 This Weekend pic.twitter.com/fSmkAb4mdS

— Warstu (@wWarstu) 23 novembre 2019
"Je viens de voir les deux premiers épisodes et je peux dire ceci :
– il y a les meilleures scènes de combat à l'épée que je n'ai jamais vu
– J'ai ri et j'ai pleuré (déjà deux fois)
…. Cette série a une âme propre".
I have watched the first two episodes and I can say this :
– the best sword fighting scene I have ever seen.
– I have laughed and I have cried (twice already).

Don't be anxious, you have done a wonderful job. This show has a soul of its own. Can't wait to savour the rest.

— Aymeric Parthonnaud (@P_Aymeric) 25 novembre 2019
"La chorégraphie des combats est folle. Le premier affrontement que Geralt entreprend est magnifiquement sauvage. Le mélange de joutes à l'épée et des signes de Geralt est absolument parfait."
The fight choreography is insane. First fight Geralt gets into is beautifully savage. The blend of swordplay and Geralt's signs is perfection#TheWitcher pic.twitter.com/8JaXGfltIO

— Garrick (Key Issues) (@Garrick_KI) 22 novembre 2019
"J'ai vu les premiers screeners de The Witcher et je dois avouer que j'ai aimé. J'aurais beaucoup de choses à dire une fois l'embargo critique levé mais c'est bien casté, structuré intelligemment et bien rythmé. De la fantasy pulp solide." 
Plowed through the initial screeners for Netflix's THE WITCHER, and I've gotta say: I'm quite liking it! I'll have more to say about it when the embargo drops, but it's well-cast, smartly-structured, and nicely paced. Good, solid pulp-fantasy nonsense.

— Asher Elbein (@asher_elbein) 21 novembre 2019
The Nerdy Basement : "Le casting de The Witcher, qu'il s'agisse des premiers rôles ou des rôles secondaires, est fantastique. Et Henry Cavill est parfait en Geralt. De sa voix, de son langage corporel, il a vraiment compris le personnage. J'adore !"
Voici des premiers échos encourageants. Il va falloir patienter maintenant.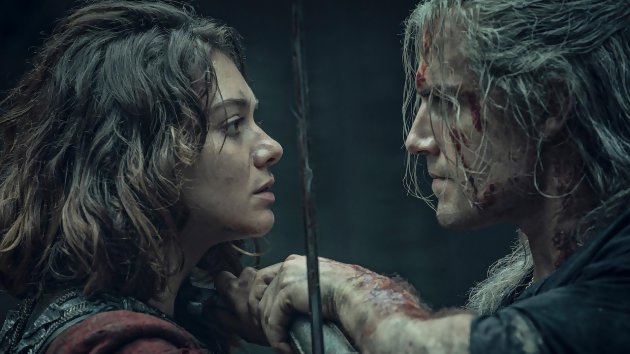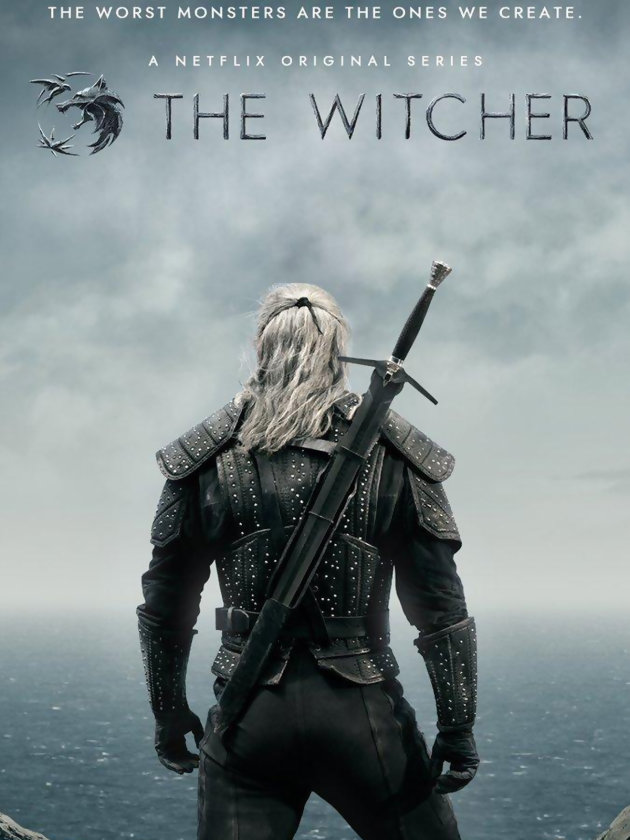 L'actualité des Series TV 2019